Sunday, 04 August 2013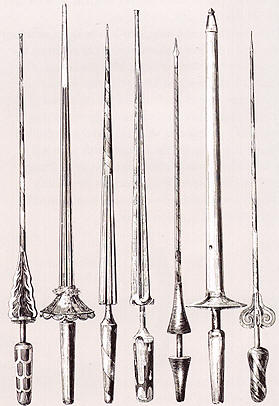 Brave Knights from all over Bretonnia as well as visitors from other lands of the Warhammer universe are invited to join in the celebrations of this year's Midsummer Tournament! With the winner of course winning the coveted Order of the Silver Lance!
Sir Edmund Droitcoeur will be in charge of this esteemed event, and you may click on the following link to be directed to the main signup thread:

Alternatively, browse these following pages to read Sir Edmund's rules and FAQs for the upcoming competition!

Page 2 - Rules
Page 3 - FAQ
Last Updated ( Friday, 23 August 2013 )
Read more...
Thursday, 30 November 2006

Issuing the Challenge

Bretonnia is a generally peaceful place where people of most all races are allowed. This means the ignorant, rude, uncultured, and offensive. To prevent nasty things like bar brawls, conspircay, murder, and Shakesperean revenge and tragedy; Bretonnia has a famous custom of settling matters with a Duel of Honour. To issue a challenge, simply go to the Duels of Honour thread, located in the Guildhall of the Wayfarers(Rp Section), and state the offense given and the challenge. A neutral referee or moderator will show up saying they will roll the dice. Send the neutral party your character, and the referee will fight out the duel and post in a nice and literary manner.


Last Updated ( Friday, 01 December 2006 )
Read more...

Monday, 13 November 2006

Welcome to the first Arena of Death (AoD) to be played at the Round Table.  This is similar to the Arena of Honour we have had in the past, but is based more closely on the rules used at other WHFB sit.es.  The rules are simple and fun.   Sign up here! 

Last Updated ( Monday, 17 September 2007 )
Read more...

Monday, 31 October 2005

Welcome to the First Arena of Honour to be held at the Round Table of Bretonnia. This tournament will celebrate the re-launch of this site and is based on the popular "Arena of Death" format found on many Warhammer forums, but with some particularly Bretonnian twists.

Entries for the First Arena of Honour have now closed. The Arena of honour takes place in the Discussion Board here.


Last Updated ( Thursday, 17 November 2005 )
Read more...